Three Tips for Taking Care of Your Cowboy Boots
by admin | October 27, 2017 12:34 pm
If you are interested in trying out the cowboy boots[1] trend, you could be hoping to find a great pair for sale. If you have never owned a pair of cowboy boots, however, you could be wondering what you will need to do in order to take care of them. Luckily, most pairs are pretty easy to take care of. These are a few tips that can help.
1. Don't Get Them Wet
Even though your cowboy boots are probably pretty rugged, one thing that you want to avoid if at all possible is getting them wet[2]. If your boots are made out of leather, you have to worry about the water permanently damaging it. Even though someone might be able to repair them, it's best to avoid the watermarks and other damage that can go along with getting your cowboy boots wet.
2. Break Them In
At first, your cowboy boots might look pristine. However, before they will actually be comfortable and before they will have a true rugged look, you're going to need to break them in a little bit. Truly, the best way that you can do so is to wear them a lot. They might not be as comfortable when you first wear them, so if you are planning on wearing them to an event — such as a country music concert — you're probably going to want to start breaking them in well in advance.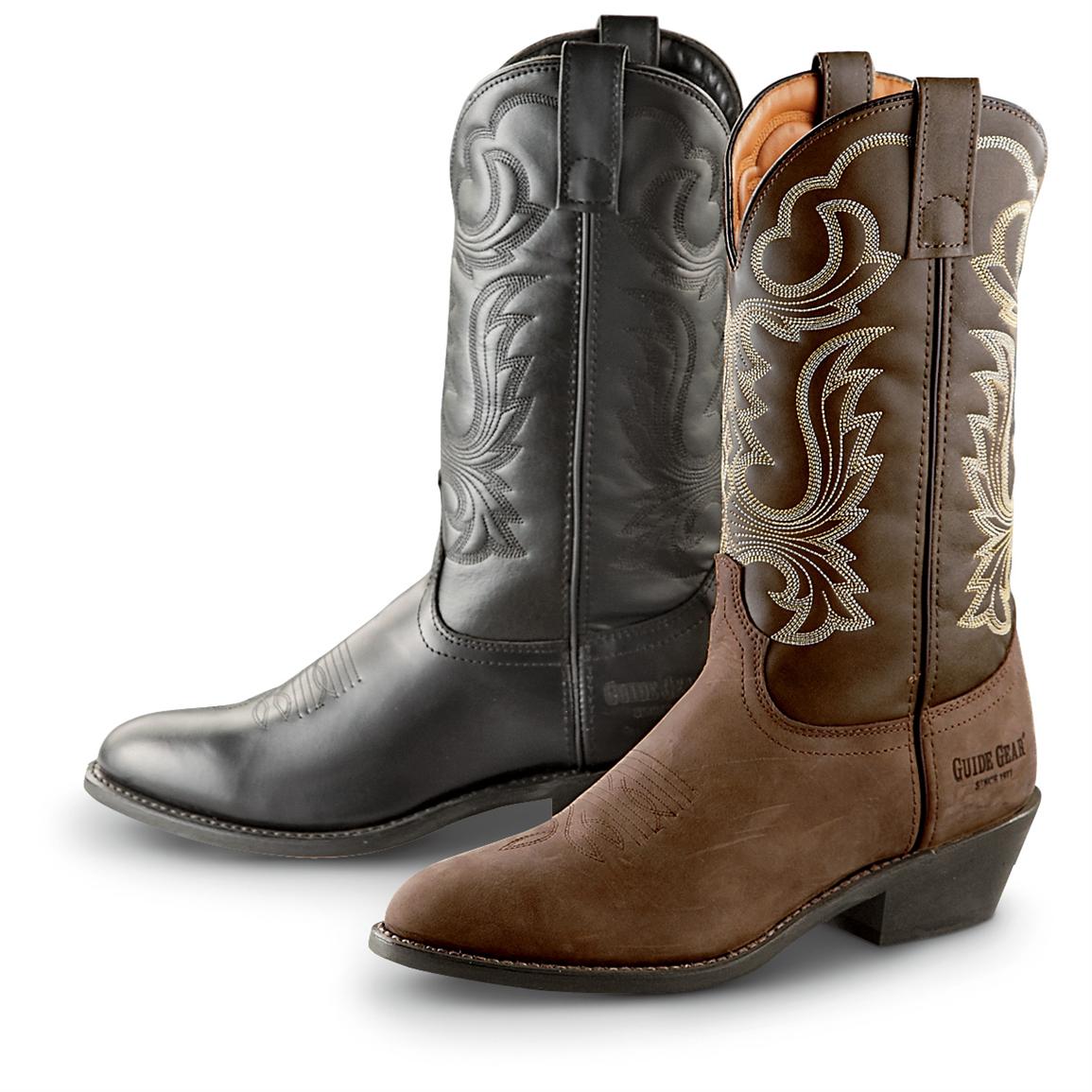 Along with simply wearing them, you can speed up the process of breaking in your boots as well. There are a few methods for doing this, but one method involves heating up a boiling pot of water on the stove. Then, when there is plenty of steam, you can hold your boots well above the pot. You will want to avoid getting them wet, so make sure that you hold them firmly. Once they have been "steamed," you can simply wear them around to break them in until they are dry. This can be a good way to get the well-worn look that you might be hoping for.
3. Take Them to a Professional
If you find that your boots become scratched, that the heels or bottom become damaged or that your boots are otherwise showing wear and tear, you might assume that your only option is to replace them with another pair. However, this might not be the case at all. You can keep your men's or women's cowboy boots[3] looking great for a long time if you work with a professional cobbler. He or she can help with repairing any damage to your boots so that they will last for a long time to come.
As you can see, there are a few tips that you can follow if you would like to take good care of your cowboy boots. Since you might have paid a decent sum for them, this is probably important. Plus, you might find that you enjoy wearing them every day, so keeping them in good shape is probably important to you.
Endnotes:
cowboy boots: http://www.artofmanliness.com/2014/11/20/cowboy-boots/
wet: http://classroom.synonym.com/ok-wear-leather-rain-10832.html
women's cowboy boots: https://www.blackstarboots.com/womens-boots/
Source URL: http://gdstexas.com/three-tips-for-taking-care-of-your-cowboy-boots/
---